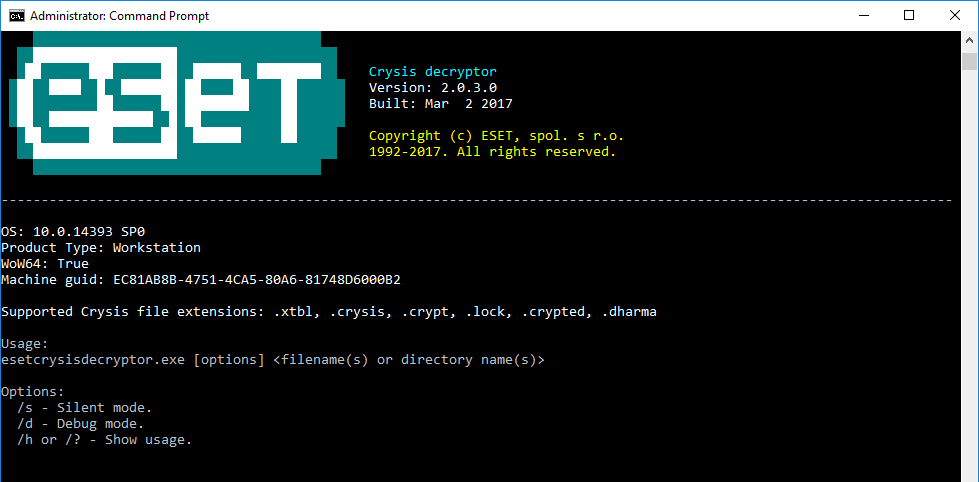 Masalah Yang Dihadapi :
File berubah menjadi salah satu ekstensi berikut : .xtbl, .crysis, .crypt, .lock, .crypted, .dharma
Di ESET terdeteksi sebagai Win32/Filecoder.Crysis
Terdapat salah satu pesan berikut di wallpaper desktop Anda dalam bentuk .txt, .html atau .png file seperti berikut
"Attention! Your computer was attacked by virus-encoder.. bitcoin143@india.com"
# "Your data was encrypted… Do not try to decrypt it – data wil be lost… checksupport@163.com"
# "To restore information email technical support"
# "All your data was crypted to get it back write to helphomeless@india.com"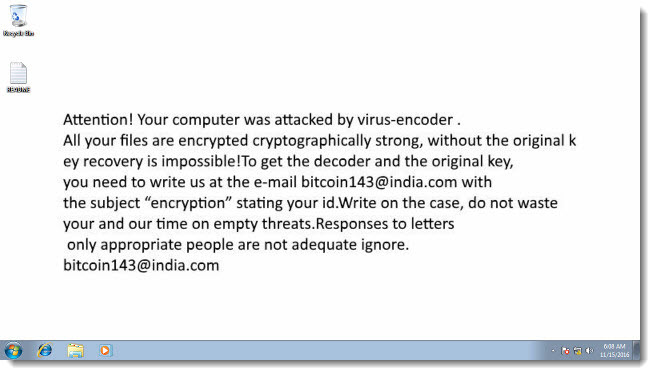 Cara Penanganan :
Download dan save file ESET Crysis decryptor di desktop Anda. Untuk download silakan ke link berikut https://download.eset.com/com/eset/tools/decryptors/crysis/latest/esetcrysisdecryptor.exe
Klik Start –> All Programs –> Accessories , klik kanan pada Command Prompt dan pilih Run As Administrator.Untuk Pengguna Windows 8/8.1/10 tekan Tombol Windows+Q untuk mencari aplikasinya kemudian ketik Command Prompt pada bagian Search lalu klik kanan Command Prompt dan pilih Run As Administrator
Tulis perintah berikut: cd %userprofile%\Desktop (jangan ganti tulisan 'userprofile' dengan nama login anda, tulis seperti contoh) kemudian tekan Enter
Ketik perintah ESETCrysisDecryptor.exe lalu tekan Enter
Pengguna harus membaca dan menyetujui agreement penggunaan software ini
Ketik ESETCrysisDecryptor.exe C: dan tekan Enter . Untuk drive lain, gantikan C: dengan nama drive yang dituju
Tool ESET Crysis Decryptor ini akan mulai mendeteksi dan memunculkan pesan "Looking for infected files…" Jika ada file terinfeksi yang ditemukan, ikuti petunjuk yang ada untuk langkah pembersihan
Selamat mencoba!